Google Sheet is a free, web-based spreadsheet program that Google has created, in google spreadsheet you can do all the things you can do in MS Excel like storing data, analyzing data etc. Read the full post to know more about it-
You will know these things in this post-
Introduction of Google Sheet

What is Google Sheets?

How to use Google Spreadsheet?

How is Google Sheet different from MS Excel?

Benefits of using Google Spreadsheet
Introduction
Google Sheets – About 40 years ago, when we had to save data from office related work like Employee record, Salary, Customer Detail etc, we used to take a registered and pull the line and maintain the data.
In the coming years, some scientists working on this problem, Microsoft created a software on the computer named MS Excel. The software became so popular overnight because it gave a solution to all the work related to the office.
Now we have become so much dependent on MS Excel that today the work done by hand is over and now all the work is done on the computer. But many times we have problems when our files remain in another computer and we have to do work elsewhere. 
Of course, PenDrive can be the solution, but remember that a person who forgets a tie in a shirt is carrying PenDrive everywhere, it is not possible. 
To solve this problem, such software has come again with which you can work from home and open that file at any corner of the world, its name is Google Sheets (Google Sheet) or Google Spreadsheet.
What is Google Sheets?
Google Sheet is a free, web based spreadsheet program that Google has created in google spreadsheet that you can do all the things you can do in MS Excel like storing data, analyzing data etc.
The biggest advantage of Google sheets is that we can use it on any device, for computer you can use it directly in Google Chrome. And there is a separate android.app for mobile.
How to use Google Spreadsheet?
As we all know, all the products of Google are available for free, for which we have to register on Google-
First Step  – login with ID and Password on Google
Login to Google with your Gmail login id. If you do not have a Google Account password, register yourself first.
Second Step  – Open Google Sheets
To open Google Sheets, search by typing Google Sheets on the Google search box or click on this link, then click on  Go to google sheets.
Third Step  – Create First Google Spreadsheet
As soon as you open the dashboard of Google Sheet, you will see some templates, which are Seth to Do, Calendar, Budget, if you want to create a new google spreadsheet, then click on Blank
Here you will see empty Google Sheets in which you can insert your data and work like Excel.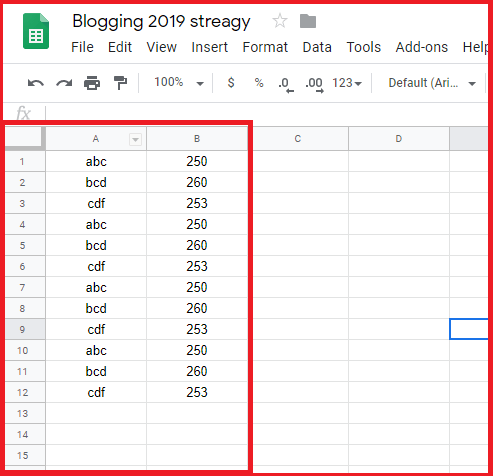 How is Google Sheet different from MS Excel?
1. Cost
Even if you use MS Excel for free, you use it unaligned. To use Microsoft Office's official software, you have to pay $ 8 every month.
But Google Spreadsheet is absolutely free software. If you want to use for business, then you have to fix $ 5 a month.
2. Collaboration
On MS Excel, you can only work one person at a time because or offline.
On Google Sheet, many people can work on one sheet at a time and can seek cooperation from each other, according to today's technology, Google Spreadsheet is a very good option.
3. Statistical Analysis
MS Excel is very powerful software for analyzing the design and function of many charts. This work is very difficult on Google Sheet and has to be done manually.
4. Easy to use
You can easily do any work on MS Excel, but for some reason this work is not saved, then your work gets deleted.
Any work on Google Sheets is automatically saved, so when your system gets damaged or goes off power, your work is still saved.
Benefits of using Google Spreadsheet
1. Make it count
You can create colorful charts and graphs in Google Sheets. You can also use its formula and private table and that too for free.
2. Get a head start with templates
There is some pre-made template in Google Sheet, which you can use to start your work. Over time, Google keeps changing its spreadsheet templates. So it is a very good option for saving time
3. Get to your Spreadsheets Anywhere, Anytime
You can open the spreadsheet of Google Seat anywhere, any place. The work you have done is automatically saved and you can also login from another device to see the same work.
4. Never hit "save" again
The work done on Google Sheets keeps automating. You do not need to take tension for your work even if your system is power off.
5. Works with Excel
All Microsoft Excel files open on Google Sheets. If you mail an Excel file, you can open it directly in Google Sheet, edit it and save it.
6. Convert Excel files to Google Sheets and vice versa.
You can convert excel file to google sheet so that there is no harm to your file. You can also convert Google Sheets to Excel.
Conclusion
So these were some of the basic features of google spreadsheet . If you are still running from the old pattern then update yourself. Because the coming era will be updated even more. So adopt new technology and do your work on Google Sheet.